Buying the HUTT C6 window cleaning robot is a recommended investment if you are looking for a helper to clean windows in your home. If this is your case, then do not miss this review with its salient features, pros and cons.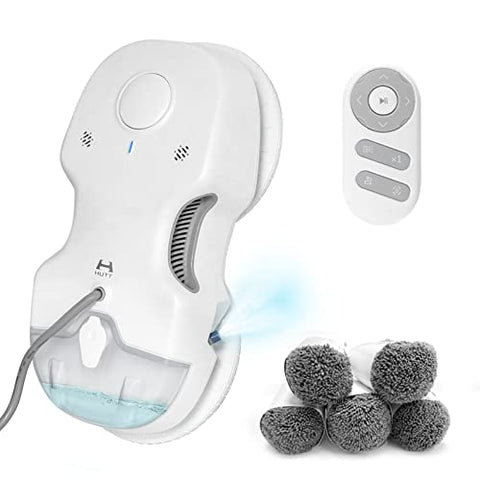 HUTT C6 Test, Advantages and Characteristics
We begin the HUTT C6 Window Cleaner review by highlighting its 80 ml water tank capable of cleaning a surface of 70-80 m2. In the same tank you can insert your reference glass cleaner or, failing that, in the device's own cloths.
In the HUTT C6 robotic window cleaner test, a device made of high-quality materials was discovered. The body looks robust and is ready to stand the test of time when working outside. On the other hand, the glass cleaning cloths (includes 10 microfiber pads) are designed with a soft material that cleans without damaging surfaces.
This window cleaning robot always works connected to the electrical network. Its cable is long enough so that you can clean large and tall windows without problems.
As a security mechanism, in case the power goes out in the building, it has an emergency battery of 20-30 minutes. If the power doesn't come back on, you'll have half an hour to pick up your robot before it falls into the void.
When controlling this device, it can be done using a remote control. Thanks to its artificial intelligence system, the robot automatically adjusts its suction power, with a maximum of 3800 Pa.
More details. It can also be used to clean on other surfaces, such as tiled wall, tables or all kinds of floors. Intuitive light system to check battery status. Smart sensor that recognizes the edges of the window and prevents falls. 24 months warranty. Device size: 29.5 x 14.5 x 8 cm. Weight: 1.14kg.